The New Carbon….Carbon Steel!
What's lighter than a modern carbon bike? The new 13.5 pound Rodriguez Outlaw
This morning, I dropped my old truck off for repairs, and pulled my bike out of the back to ride on in to work. The mechanic was impressed with the nice paint job. It's always fun to have someone lift my Rodriguez S3 bike and watch their jaw drop as they effortlessly lift it chest high with just one hand. So, I handed the bike over to him and said "Lift it up".
Well, he lifted it, and as expected, his jaw did drop. He said "I gotta show this to the other guys!" So he rolled it to the back of the shop, lifting it several more times in disbelief as he went. Once there, he handed it to the other mechanics and told them to lift it up. Needless to say, they had the same reaction as he did. I asked them all "What do you think the bike is made of?" They all said in unison "Carbon fiber…"….then, noticing that I was shaking my head 'no' one of them said "Titanium?" "No" I said. "This is an American made steel bike, made right here in Seattle". The surprise on their faces was evident as they all lifted the bike several more times, and one of them even took out his magnetic 'pick-up' pen device and stuck it right to the top tube just to make sure it was steel.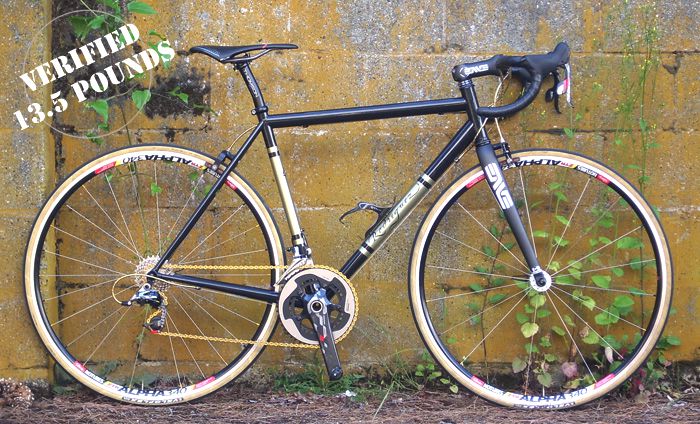 If you ask most people why they bought a carbon fiber bike, the answer invariably comes back "Carbon bikes are lighter weight". Well, what if that's not true? What if that's just something you've been told? What if a comparably priced steel bike was just as light as a carbon fiber bike? Would you still want a carbon bike? Now, what if a comparably priced steel bike was even lighter than the carbon bike? How about one step further…what if a steel bike was lighter, less expensive and rode faster?
Think I'm crazy? Let's peel the layers off of the onion and get to the truth about carbon fiber mania. The fact is, here at Rodriguez we did make carbon fiber bikes, but that was 35 years ago. Yes, you read right. 35 years ago we made custom carbon fiber bikes. I've written a slew of info about frame materials here if you are having trouble sleeping. Material World is a 4 part article that I wrote for the Bicycle Paper a while back.
Before we start: Is weight the only consideration for spending a lot of money on a bicycle? How about fit, durability, color, ride quality or longevity? Do these matter to you at all? If so, you'll want to read on. If weight's the only thing important to you, then you should read on as well, because I think you'll be surprised.
Along for the Ride
We can start with the premise that most people prefer the ride quality of a steel frame to carbon. Heck, even a lot of carbon bike manufacturers cede the argument to steel for durability and ride quality. So what if you could pay less money, have a faster riding bike, more comfortable frame, and still have the lightest bike in the crowd? Sounds to good to be true right? Well, I'm actually talking about our 13.5 pound 2013 Rodriguez Outlaw, and it's very real! As a matter of fact we've converted dozens of carbon frame riders to the Outlaw by just allowing a test ride on this amazing bike! Even the most die-hard carbon enthusiast will have to admit this bike cannot be beat.
Side note here for those of you who think you have a lighter bike than the Outlaw.
I have had several people tell me they have a friend with a lighter bike than the Outlaw, but have yet to weigh one. The closest carbon bike to come in here was still 2 ounces heavier than the Outlaw, but was twice the price. Seeing is believing. We keep a scale at our front desk so that we can weigh bikes that come in, and we've weighed just about everything. Don't trust word of mouth as our industry is full of….well….inaccuracy at best when it comes to weights. I know that a lot of manufacturers publish weights in their catalogs and websites that are untrue. If you want to have some fun, buy a small digital scale and carry around with you to bike shops. Ask what a bike weighs, and then pull out the scale to verify it. I've done it, and it's a blast! Like to read more about that?

All right, all right, back to business
I know, I know….you're reading all of this, but then you pick up a magazine and read a glowing review of a sweet carbon fiber bike from some giant company. How can that be? Wouldn't they be reviewing steel bikes if steel was so cool?
Let's have a look at the vicious 'Cycle of Business' shall we?
Magazines review bicycles that their advertisers send to them for review. Companies send bikes for review that they want to sell. Look through the magazine and you'll usually find an advertisement for the very bike that got that glowing review…..sometimes just opposite the review itself. It's no coincidence. Big companies that advertise don't make hand-built steel bikes. That's because carbon fiber bikes are inexpensive to build overseas, so it would make sense to prime the public to want them. Not to say that the review isn't genuine. The reviewer probably really liked the bike. It's just that the opportunity to ride that bike for review is not a random selection, but a selection from an advertiser. The Cycle Continues
"Well, what about the pros?" you ask. "The pros only ride the best right? Almost all the pros ride carbon fiber, so doesn't that make it the best?" Right and wrong. You see, the pros don't ride a bike that they expect to last year after year (durability). Heck, a lot of them don't even require their frame and fork to last one race. So, if by 'best' you include durability in your criteria, a pro has no need for that.
A pro does have a need for sponsorship though, and if their sponsor is trying to sell carbon fiber frames, then carbon fiber they will ride. After all, it's their job to sell bikes. If we paid millions in sponsorship to a pro team, then they would be thrilled to ride steel Rodriguez Outlaw hand-built bikes (but, that's not going to happen). If your criteria is "I ride what I'm paid the most $$ to ride" then at this point in history, carbon is the best. I'm not saying that a carbon frame will not perform, I'm just saying that it is not a superior performance to steel.

Fit note: – Realize also that the pros are riding bicycle geometries designed to fit them and their riding style. When you purchase that same frame in a store, you're not purchasing a bike to fit you, but rather a bike to fit the pro it was made for. Ask your sales person what it would cost to get that same frame made truly custom to fit your body and riding style.
Good natured sarcastic rant warning
What's fashion got to do with it? With all of the magazine ads, pro sponsorships, certain bike shops, and even industry rags smack-talking any bike that isn't carbon, it's almost fashionable to ride carbon fiber. I'd say that it's become so fashionable in some circles that you almost have to be a heretic to ride steel. One more great reason that we call this bike the Outlaw I say. Peer pressure is a powerful motivator, but we're here to help give you the ammunition to resist…..come to the dark side……be an Outlaw….like Alice Cooper says, Flush the Fashion!
This 'cycle' of promotion steers the consumer to the product the manufacturers wants to sell. Now, obviously I'm trying to do the same thing, but I'm willing to put my money where my mouth is. Basically, you've got to verify weight if it's important to you. I think that if you do that, you'll find that here at Rodriguez, we can build your bike in America just as light as any overseas carbon bike. I'm confident that if you ride our bike back to back with a carbon bike, you'll choose the Rodriguez every time….just like Steve and countless others have over last few years.
With the fashion sufficiently flushed, let's get down to earth

I think that I've shown here that a light weight bicycle can be achieved through either material, so I would like to put all the hype about weight aside for minute, and talk about some things that are way more important.
1.) Fit: If your bicycle doesn't fit well, you're going to hate riding it no matter what it's made out of. At Rodriguez we view fit as the most important component to any bicycle. We offer a fit guarantee with every bicycle we sell. Here's a few articles that I've written over the years to back-up what I'm talking about on this subject. Ignoring fit when buying your bicycle is a huge mistake that many people make.
2.) Longevity: If you don't care how long your new bike will last, then don't worry about this section.
Most of our customers plan to ride their new Rodriguez for many years to come. What the consumer doesn't realize is that our industry is steering very heavily toward a disposable product model by engineering bicycles to only last 5 to 10 years. Sure, carbon fiber frames with their short warranties are part of that model, but an even greater problem is wreaking havoc at bicycle repair shops all around the country. This is the trend of straying from industry standards to proprietary parts.
What the heck am I talking about? If you don't know what ISO standards are, and proprietary parts are, you're bound to end up on a bicycle that will end up in a land fill before its time. Yes, I've written a few things on the subject.
Here at Rodriguez, we reject the disposable bike philosophy, and substitute our own. A Rodriguez is built to be a forever bike.
3.) Personality: Do you have a favorite color? Why not paint your bike that color? At Rodriguez, your bike isn't built until you order it, so you can choose any color you want. Obviously this isn't a benefit exactly of a steel frame only, but Rodriguez customers love to have their new steed reflect their personality.
4.) Made in USA: I think there is something to be said for purchasing your bicycle from a company that is committed to manufacturing their products right here in the USA. We've seen almost every manufacturer move their production overseas in the last 2 decades in search of those creamy profits at the top. At Rodriguez, we've changed our manufacturing methods to provide the
greatest value and made in USA quality. We even manufacture parts in Seattle that we ship to Taiwan companies. How many manufacturers can say that?
The fact the we make your bike right here, means that we can customize more than just the paint. We can change geometry, braze-on fittings, tubing weights, wheel color, tires, you name it, we can do it!
5.) Most importantly: Don't buy a bike, buy a shop! Really, it's not about the bike. I can't stress enough how important your relationship to your shop will be for your cycling enjoyment. A good shop has mature, professional employees who spend an hour or more fitting you to a bicycle before they sell you something. You should get a fit/comfort guarantee with your bicycle as well. Can you bring it back for a refund if you don't like it? This is important, right?
6.) Get a Guarantee!! I cannot believe how many people have expensive bikes that are only a few weeks old and they hate them (like Jane). Why don't they get their money back? Well, the shop or manufacturer doesn't offer a satisfaction guarantee. Realize, any bike can be comfortable on a 10 minute test ride. The real test is how you feel on it after a few weeks. That gives you time to really settle in to the fit that your fitting professional has recommended, and feel how the bike reacts to your daily riding style. If the shop, or bicycle manufacturer, you're working with doesn't offer free fitting (including free stem and bar swaps) for their bicycle customers after the sale, I would strongly consider another shop. A lot of shops do not offer such a guarantee, so it's your job as a consumer to ask that question before you purchase.
If they don't offer a 30 day money back satisfaction guarantee, then realize that you will possibly be paying hundreds of dollars for fit work at another shop in order to relieve your pains, or, like Jane, you'll just ride your old bike and let the new one hang in the garage. Now-a-days, high quality bicycles sell for $3,000, $6,000, $10,000 or more! That's a lot of dinero for a wall hanger!
Wow! That's a lot huh? If you're looking for an uber-light bike, a heavy duty commuter, or and all-around bike for any occasion, we'd love to have a shot at becoming your bicycle company. Here at Rodriguez, we realize that the most important choice you make when selecting your new ride is the people that you are working with.
Thanks for reading
Dan
Articles linked in this post
"Why didn't I see you at Seattle Bike Expo?"
This time of year, customers often ask if they'll see us at Bike Expo, NAHBS or some other exposition show that other custom bike companies attend. So many customers have asked me that over the last 5 years that I thought maybe they were due an explanation. We do not exhibit at these shows any longer. Although that would have seemed like a crazy decision to me just 10 years ago, business models change to suit the needs of their customers. After 40 years in business, we've learned a thing or 2 about what our customers want from us. We're not crazy (at least I don't think so)….read on and find out why.
Mission: Impossible
The story of a customer focused business trying to operate in a conventional way
Imagine trying to put together a bicycle display that will compete with Specialized, Trek, Cervelo, and all of the other national and international bicycle companies. Sounds like a big task right? Well, let's keep going. Now, imagine trying to put that display together while at the same time running a full scale bicycle shop. You have to keep fitting customers for new bikes, selling new bikes, answering the phones, answering your email, and working the sales floor just like any other day. Sounds a little harder right? Well, that's not all. In your shop, you have to keep welding, painting, and assembling the bikes that are already sold. Now, you also have to keep the ordering going full time so that parts are here for those sold bikes, and don't forget, you have to run a full service bike repair shop too.
If all of this weren't enough, assume that you've developed a large parts manufacturing business throughout the last decade. You have to do all of the previous stuff while at the same time manufacturing thousands of parts that have already been promised to overseas customers. After machining, these parts will have to be anodized, fully assembled, boxed and shipped to the customers.
The Hard Part:
Now here's the hard part (I bet you thought you'd already heard the hard part). You have to do all of this on a small business budget with the same 15 staff members that work at your shop all year long. Looking back on it, it doesn't sound hard as much as it sounds crazy. The truth is, we couldn't do all of what we do well, and do an expo display well too. If you want to read more about what the last expo we attended was like, read on…
…the inner workings of preparing for an expo:
Going to an exposition sets us back about 3 weeks. There's no way to do an expo without putting orders (parts and bikes) already placed onto the back burner. It doesn't seem fair, but that's how it is.

Here's a quick timeline of how an expo worked for us:
After several planning meetings, various departments were assigned to do things to prepare for the show. These meetings were expensive, and so was the booth at the show ($4,000 the last time we attended) so it was important to make a big impression….at least it seemed important at the time.
Ignoring what's really important:
First of all, we started preparing for an expo a few months ahead of time, by making room in the build queue for some special 'show bikes'. By 'making room' I mean putting customer's bikes on the back burner. Then, about 10 days before the show, we did nothing in the paint shop except paint show bikes. Again, customer's bikes would have to wait. The repair shop was kept busy assembling bikes for the show, and helping me build whatever booth fixtures we had designed. Before you knew it, we were backed up in the repair shop too (even repair customers had to wait).
On Thursday before the event, we would need to pick up the rental truck to haul all of the show bikes and custom displays that we had built. Most of the staff spent Thursday and Friday carefully wrapping the bikes and loading the truck, only to unload it again at the event a few hours later. Customer repairs and fitting appointments were not allowed from Thursday until the next Tuesday. This was because our trained staff would all be at the show trying to make a good impression on all of the show attendees. The actual store would be staffed with temporary volunteer 'friends' until we returned on Tuesday.
The show:
Now, we'd been working non-stop 10 ~ 12 hour days the week before the show, and now we would work 3 more 12 hour days in a row. Saturday would start early and would be a 12 hour day of standing on concrete floors and shaking hands. It's really great to see the customers, but it was also a little embarrassing when someone with a bike on order would ask "How's my bike coming?" Obviously, they had a bike that was put on the 'back burner' while we prepared for the show.
Sunday (usually a day off for everyone here) would be another 10 hours on the concrete floor, and then a long night. After the show closed, we carefully wrapped the bikes and loaded all of them and displays back onto the truck. We then drove back to the shop, and hastily unloaded everything. I usually took the staff out for pizza at this point before we all went home and collapsed in our beds.
Monday (usually our other day off for everyone) was spent putting everything back in order on the sales floor, returning the rental truck and any other rented items, and trying to assess the state of the bikes and parts on order (How far behind were we? Who do we need to call to tell them their bike will be late?).
Doing an exposition means that most of the staff loses their 2 days off that week, and we start the next week in a stupor. All of this, while putting our customers on the 'back burner' just didn't make sense anymore.
What are we doing?
If you're still reading, then you've just read a brief synopsis of our last expo (over five years ago now). Imagine going through all of that effort to discover at the last minute that your booth would not be in the prime location that you reserved several months in advance, but rather in the back of the event. In short, you got 'bumped' for a larger company. This is what happened to us, and it really lead us to examine what our mission was as a company. Our mission is to 'exceed our customer's expectations for service', but were we doing that?. After analyzing the amount of effort put into that show, we couldn't get away from the fact that we were being drawn away from our mission when taking part in these expo type events. How were our customers being served by being 'bumped' for 'show stopper' bikes?
While it was disappointing to be 'bumped' to the back of the room, it was no different than what we were doing to our customers

Redirection Required:
It was after this last show that we decided to do something very different, and the Bike and Pike was born. The Bike and Pike Event is our way of celebrating Seattle, cycling, and the customers who make our business possible. We can do this in a way that doesn't disrupt our daily work, and in fact, we build bikes all the way through the show. No staff member misses their days off, so we continue on fresh the next week. Attendees have a great time, enjoy some incredible Seattle brews, bikes and more. No special bikes have to be built, as 'the show' is watching us build the bikes that are in process already. That's more fun anyway, right?
Supporting the Seattle community:
The Bike and Pike offers two important things for Seattle
1.) A low cost way for new Seattle businesses to show their stuff. Seattle small businesses that are friends of the shop like Willie Weir, Bikelava, T's Leatherworks, Jenise's Jammers, and others get to display their products to attendees and we don't charge them a dime for the booth. We see it as a way to help them get their businesses off the ground.
2.) Giving back to the community. Before the first Bike and Pike, Charlie and Rose Ann of Pike Place Brewing Company and I got together and discussed what type of event we would like to have. It was great to have an inexpensive way for small Seattle businesses to get the word out, but we also thought we should find a way to raise money for a local charity. Food Lifeline has been a great resource here in the Northwest for local food banks, so we decided to put 100% of any money raised on the event to them.
It's a keeper!
The success of this years event was sensational! After 5 years, we've decided that Bike and Pike really fits our mission, and has allowed us to present our true product to attendees. That product? Dedication to service and to those customers who put their trust in us as their manufacturer, bike shop, and friend. Thank you all for choosing us, and here's to 40 more great years in Seattle!
Thanks for reading – Dan