Since our series on 700c vs. 650c ran, I've gotten a lot of e-mail questions about 26″ (mountain bike sized or 559 size) wheels.
The question that people have is "why don't you use mountain bike sized wheels instead of 650c? Wouldn't that give the customer more rim and tire choices?"
The funny thing is, we love 26″ wheels as well. 26″ wheels offer all of the same design advantages for the petite cyclist as the 650c. Actually, we build a lot more bikes with 26″ wheels than we do with 650c. I'll bet we build more 26″ wheeled road bikes than just about any other custom builder around. One quick look at our website, and you'll see that we have several models that use 26″ wheels for every frame size, and all of our touring bikes come standard with 26″ wheels for all of the smaller sizes. Our popular UTB has run 26″ wheels since 1996, and the Rodriguez Adventure touring bikes have run 26″ wheels for the small sizes since the creation of the model as well. We were a pioneer in 26″ wheeled tandems and touring bikes throughout the 1980's and 1990's, and still offer 26″ wheels on any tandem or touring bike we make. As a matter of fact, more than half of Rodriguez tandem riders (including myself) choose 26″ wheels. Just look at our main photo on our custom tandem page or the Toucan ST tandem page. Almost all of our new Rodriguez Make-shift customers order their bike with 26″ wheels as well. I can't leave out our exclusive Rodriguez 8-ball convertible tandem/single travel bike either. Since it's inception in 1995, all but 2 of these have been built for 26″ wheels (one went with 700c, and one went with 24″ wheels). Here's a gallery with just a few of the 650c bikes that we've built last year alone.
As you can see, 26″ wheels have a very long history on Rodriguez bicycles
This series of articles was focused on road racing bikes, and there is a disadvantage to a 26″ wheel on a road racing bike. That disadvantage is tire and rim availability. Although there are plenty of rims and tires available for 26″, the selection that a racer would want to use is extremely limited. 650c offers a decent selection of lightweight racing tires from 23mm to 28mm by companies like Michelin, Vredstein, Serfas, Continental, Hutchinson, etc… 26″ offers the rider great variety in wider touring tires, but almost no 23mm options, and very few light weight rim options.
Road Race bikes are a different animal than tandems or touring bikes
For a couple of years, we ran 26″ wheels on the smaller our best selling Rodriguez Rainier road model, but we found that rim and tire choices were too limited for some of our 'go-fast' road bike customers needs.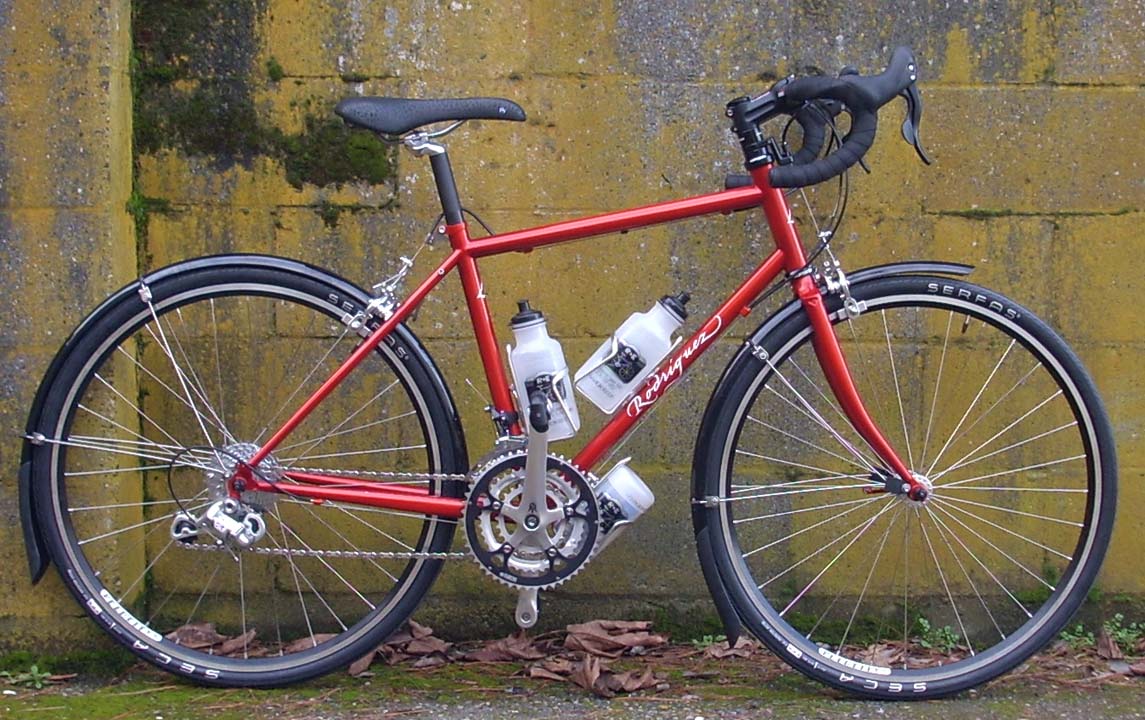 This bike is shown with 26″ X 1.25″ wheels, but the owner, Nancy, has a pair of 650c racing wheels that she runs for "race day"
In a perfect world, the industry would begin manufacturing 26″ tires and rims in racing weights, or 650c rims and tires in touring weights. But for now, the petite racer has a much better selection on 650c, and the touring cyclist has a plethora of excellent choices in 26″.
Why not a bike for both 26″ and 650c?
What's really cool is a bike that will use both 650c and 26″. We've built several of these through the years, but requires some special considerations when it comes to brakes. Standard brakes will not work for both wheel diameters, but if the rider is willing to adjust their brakes, they can have a bike like Nancy's (above), that can use both wheel sizes.
In summary, nobody would like to see the acceptance of one standard wheel size than I, but suffice it to say we will continue to offer the petite cyclist choices that suit their style of riding in any wheel size.
To see more 26″ and 650c wheel bikes, visit our website and look through the image galleries for the different models. Every image gallery has bikes with various wheel sizes. To get you started, here is a gallery of just some of the 650c bikes that we've built last year alone.
Related Items