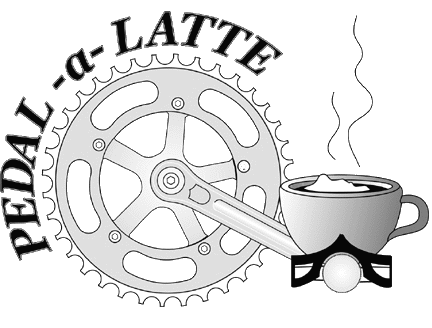 A shop inside a shop
Welcome to Pedal-a-Latte! Pedal-a-Latte is a unique coffee shop inside of a bike shop. We proudly serve Caffe Vita coffee and espresso. Pedal-a-Latte was opened in January of 2004, just in time for Willie Weir's winter shows that were held in our shop.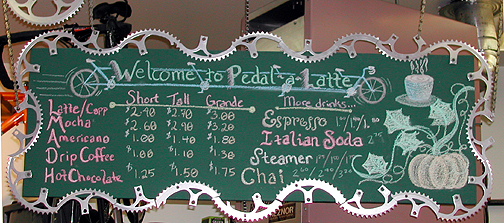 We incorporated lots of bicycle parts in the decoration of the coffee shop area. Quick release skewers serve as handles on the cabinets, a wheel serves as the door into the coffee shop area, the coffee machine handles sport Cinelli handle bar tape, even the menu is wrapped by chain rings and hung with bicycle chain.
When you walk into R&E Cycles you will most likely be greeted by our friendly barista, Megan, who has been working with us for about 2 years now. She has been living in Seattle for most of her life and attends North Seattle Community College. When she's not working or going to school she spends her spare time making jewelry, playing the violin, and pursuing other forms of art. Last summer she participated in a 3 month residential teaching apprenticeship where she taught kids of all ages wilderness survival skills. Isn't she great! So next time you stop by come on over to the coffee shop, get a delicious drink and hang out for a while.