If your tandem bicycle was made before you ordered it,
it's not your tandem.
Today's Topic: Free custom tandem sizing at Rodriguez
At Rodriguez, there are a lot of things we do differently than the other guys. As a matter of fact, there's very little that we do the same as other tandem manufacturers. Although our tandems may look similar to other brands, there are some huge differences and I thought I might just take a moment today to tell you about a few of these differences.
In this article I will touch lightly on the fact that we offer all of our tandem frames in custom sizing at no extra charge. I will go a little deeper into why we do that, and what it means for you, the tandem team.
Who is this article for?
If you're a stoker, this article is definitely for you! If you're a captain who sees value in having your stoker be comfortable and happy on your tandem, then this article is also for you.
I promise to try to be brief and stay focused, but those voices in my head keep steering me off course. Grab a cup of coffee, sit back, and let's graze the surface of just why a custom tandem from Rodriguez is different.
Tandems and stock sizing:
Years ago, like other tandem manufacturers, we made our tandems in production (or stock) sizes. We had XS, S, M, L and XL. The reason to produce them in 'stock' sizes was to save money by having a repeatable method. We could build several frames of each size at once, and stock up on them. Then when customers came in, we could fit them to one of the sizes. This is the way that most shops have to sell tandems even today. They only have pre-determined sizes available, so the best that they can do is to adjust things around those sizes to make something work. If they have a custom option available, it is a lot more expensive and takes a lot more time.
When we had stock sizes, it turned out that about half of the time, the stock size was not ideal, but could be 'made to work' with some compromising. As a tandem builder who puts proper fit at the top of the list, we could always build a custom size if one of our pre-built stock sizes wasn't perfect. About half of the customers who could technically fit on a 'stock' size chose custom anyway. The rest of the time though, the stock size was so far out of the ballpark that it just wouldn't work at all. We found that even with production sizes that were pre-built, most of our tandems were built as custom anyway. Customers were willing to pay the extra $$ and wait the extra time to get the right fit without compromising. So, only about 25% of our tandems went out as 'stock' sizes.
The same problem existed with all of the other brands that we worked with as well. There were often too many compromises that had to be made in order to fit a couple to a tandem comfortably. It's not that we hadn't found the right stock size formula, but that a stock size formula is not realistic when trying to fit 2 people to 1 bicycle. This is something we confirmed in 2006 (Sound interesting? Read on).
Why not make all tandems custom?
Back in pre-historic times (pre-2006) it was a lot more expensive for us to make a custom bike, and it took a lot more time. Making them all custom would've been very disruptive to the flow of our manufacturing line back then. At most manufacturers, it still is more expensive, disruptive, and still takes more time. At Rodriguez, we've conquered this challenge, and we're doing things different than everyone else. But that's a whole
different article if you want to read it.

A quick word about our new way of building bicycles
In 2006, we developed our
current method of producing bicycles. It's as simple as this: Make bicycles one at a time, in the order they are ordered. I know that sounds incredible for a manufacturer that makes as many bicycles as we do, but it's how we do it. It turns out to be much more efficient and gives the customer a far better product. It's one of the reasons a Rodriguez is the
best value in the industry.
Our method is unique to the industry, and now I feel myself going off topic…
Now back to our regularly scheduled topic…
Suffice it to say that in researching for our new fit and manufacturing method we discovered two important things when it comes to bicycle and especially tandem bicycle fit. It takes 18 stock sizes (in single bikes) to fit 90% of the customers we work with. 10% of our customers still end up on a custom bike because of fit issues. Now let's extrapolate this to a tandem couple. How many sizes would we have to offer in order to give the tandem couple the same type of accuracy that we give with 18 stock sizes in single bikes? What do you think….36….64? That number is 18×18 or a whopping 324! And that number would only fit 90% of the couples we work with. Trying to produce 324 stock sizes is not efficient, or even realistic. It's way more efficient to build every tandem with a custom design. So that's what we do. We offer every tandem couple a custom frame size at no extra charge.
So where's the pain?
The stoker (person riding the back of the bike) is often ignored when it comes to fitting a couple to a tandem. The theory goes something like this: With an adjustable stem and seat post, we can get the stoker's bars and seat anywhere we want.
That sounds like a reasonable theory, but in reality, there are many factors that we've encountered that make for trouble. Trouble in this area means an uncomfortable stoker. An uncomfortable stoker means a 'no-fun' ride.
I could write a book here, but instead, let's just analyze three recent tandems that we've built and I'll walk you through why these customers don't fit on a stock size without compromise. I could easily put hundreds of bikes here to analyze, but I think these three are a pretty good sampling.
I'll show actual images from the C.A.D. drawings that we used to build three recent tandems. I'll remove the dimensions and add some crude seats and bars for clarity. For fun, I'll link image galleries of those exact bicycles so you can see how they turned out.
We'll look at a tandem that's obviously custom built for a couple that obviously needs a custom. We'll look at a tandem that's obviously custom built for a couple that most would think could ride a 'stock' size. Finally, we'll look at a custom tandem that looks like a 'stock' size for a couple that looks to be 'stock' size.
---
Any shop would send this couple to a custom builder, because of the massive height difference in the riders, and the fact that the captain is too tall to ride any 'stock' size of any bike. Take into account the fact that he rides special 220mm crank arms as well, and that rules out any 'stock' size.
Of course, anyone who's 7′ tall expects to need a custom tandem. What they don't expect is that at Rodriguez, it will cost nothing extra to get that perfect fit.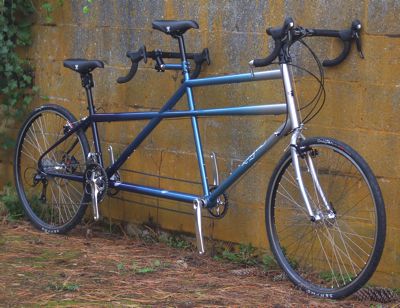 In this example, we're just showing that no matter what the height differential, a tandem can be made that looks and rides great! We've built a lot of tandems through the years that are this same frame design, but until this bike, we didn't take pictures.
This couple worked with me via email to get their sizing perfect. The bike turned out beautiful, and they are loving it! See the image gallery for this specific bike here.
---
Custom Tandem Number 2
Custom tandem for a 'stock' looking couple
Captain height – 6′ 1″ | Stoker height – 5′ 4″

Going by the rider's heights, most shops would guess them to be a 'Large' or equivalent tandem size in most brands. This would be especially true if they were communicating by phone or email, and just guessed by height alone. This is probably the biggest misconception that we deal with when fitting a tandem to a couple. We've learned by statistical analysis of fit data collected over several decades, as well as through experience working directly with our couples that height alone is a terrible way to size a tandem.
Most companies don't have the opportunity to work directly with every customer purchasing one of their tandems, and therefore must rely on their dealers to do the fit work. When you work with Rodriguez, you're working directly with the folks who will design, build and paint your new bicycle.
Back to analysis: With a stoker that's 10 inches shorter than the captain, this tandem team has a pretty standard height differential. However, their custom tandem is very different from any 'stock' size on the market. We see a lot of poorly fitting tandems out there ridden by couples at this respective height difference. Since going strictly custom, we've found that many more couples need a tandem that looks like this than even we would've estimated 10 years ago.
Although she's 10 inches shorter, this stoker actually rides a higher saddle than the captain. That's because her inseam is longer than his. Her height is in her legs, and his height is in his torso. Stock sizes always presume a lower stoker saddle than a captain saddle. In this scenario, her comfortable bar height is level with her saddle, and that means that her bars need to be higher than the captain's seat. All of this adds up to a much longer stoker compartment to accommodate her fit.
Almost all other brands run a 73cm (or shorter) stoker compartment on their 'stock' and even on their custom sizes. The stoker compartment on this frame is 82cm. That's almost 10cm longer than the standard that other manufacturers run on all of their tandems (including custom). This stoker would have to ride with her bars way too low to be comfortable for her unless her custom tandem was built to order. At Rodriguez, we start every tandem drawing with the stoker's fit on the screen, and then add the captain's fit with regard to stoker's reach and bar height. This will ensure that the stoker will be comfortable, and her/his hands will not be hitting the captain in the butt.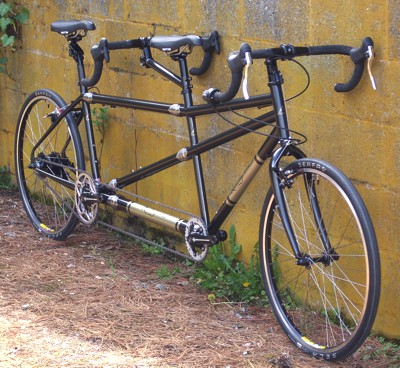 This drawing is very similar to the custom tandem reviewed in Tandem and Recumbent Magazine in 2013. See what they had to say about our custom tandem process.
We've built a huge number of tandems for customers that need a longer, higher position for the stoker than is possible on 'stock' sizing. Here's one we did for the
Jacobs, and another for the Millins. This fit is just not something that a company can plan a 'stock' size for, but ends up as one of our most common designs.
You can view specific hi-resolution images of the bike the bike we are analyzing here.
---
Third time's the charm…or is it?

'Stock' looking couple – 'Stock' looking bike
Captain height – 5′ 11″ – Stoker height – 5′ 3″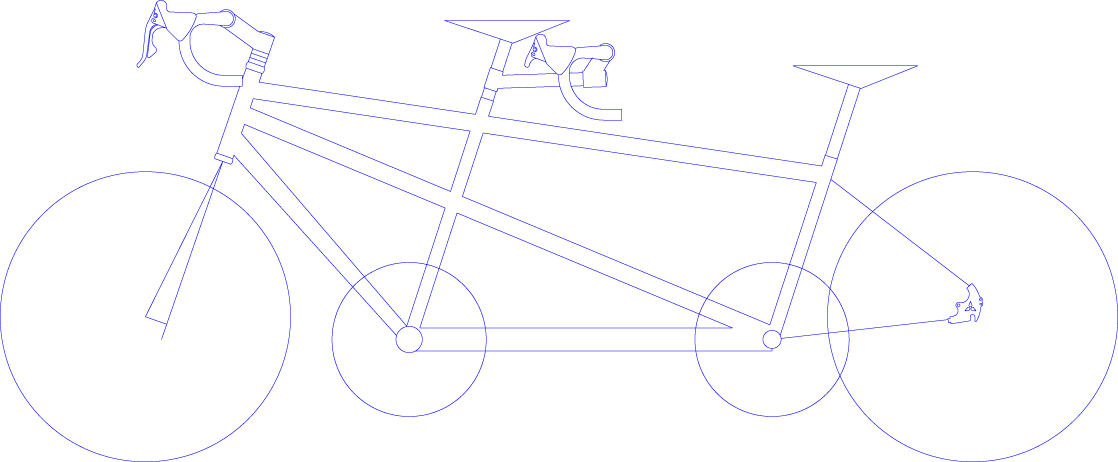 This bike looks like a 'stock' size doesn't it? Well, it's not even close. The stoker's compartment is 80cm long. That's 6~8cm longer than anybody else's 'stock' size.
Here's an example of a customer that technically could fit on our old 'stock' size L, but the stoker would've had to compromise her comfort. A couple like this is often willing to put up with some discomfort for the stoker in order to save the $400~$500 that other companies charge for a custom size. Once we started offering custom sizes on tandems, we quickly discovered that almost every couple really fits better with a stoker compartment longer than 78cm.
We ask: Why compromise a comfortable fit for the stoker?
This stoker wants her tandem to fit like her single bike does, and she'd like a little distance between her face and the captain's rear end. Although she's just 5′ 3″, her preferred handle bar height is 4.5cm higher than her saddle, and her bar width is just 38cm. With the shorter 70~73cm stoker compartment that is built into all other 'stock' sizes, she would have to choose from one of 3 compromises. She could ride bars that are too wide, she could ride with her bars too low, or she could ride with her total reach too short for her fit. Without one of these compromises, the captain's hind quarters would hit her in the hands. This is a compromise repeated again and again throughout bike shops everywhere. The stoker's fit is compromised.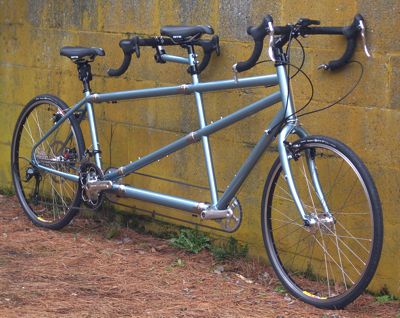 Here are a few customers that have very similar '80cm +' stoker compartments on 'stock looking' custom tandems. If you see these bikes on the road, you'd think they were a 'stock' size, but they are far from it! They are all custom Rodriguez tandems. All of these stokers are enjoying the benefits of a tandem built with their comfort in mind!
The Wrap Up
Well there it is, our case for the custom tandem frame. We started offering free custom tandem sizing several years ago, and we've never looked back. Our tandem customers are happier than ever, and we've helped dozens of couples out of poor fitting 'other brands' just by working with them in our fitting station. As it turns out, most stokers want to be comfortable on their bike, and once they've experienced that, there's no turning back.
If you're considering a tandem to replace your old one, or if you're considering your first tandem, why not make it your tandem? Now you don't have to compromise fit or $$ to have the perfect fitting custom tandem that you've always dreamed was out there.
If you have any questions, or would like to talk further about our bikes, just email me or call the shop at 206-527-4822.
I sure hope you enjoyed this article, and that you learned something from it. We have a good time here at Rodriguez making and talking about bikes. Thanks for reading.

Dan – April, 2014

---
More technical tandem articles
---
A Stiff Proposition
– Stiffener tubes
Double Trouble
– Tandem forks
Featherweight Champion
- Race tandems
---
Linked in this article
---
Our Custom fitting history at Rodriguez
The Best Value – Custom Rodriguez
New Manufacturing method
Our Tandem Photo Galleries
Rodriguez Tandem Testimonials