Going the extra mile for our customers
When Serfas told us they could no longer make our famous 650c x 28c tire, the Urbana, we were devastated. Our petite customers had come to expect that we would always have a great option for them. I know a lot of you were very disappointed that we could no longer get these great tires, but we weren't about to give up! We went to work contacting many tire manufacturers to see what it would take to get a replacement made. It was a difficult task, until surprisingly, we contacted Panaracer. Panaracer is about our favorite tire maker (as many of our repair customers know), but we didn't think a company as established as they were would be interested in helping us out. Luckily, we were wrong.

We worked with Panaracer through the winter to bring back the 650c x 28c tire (now available again at 650biketires.com), and in the process we decided to move all of our tire specification to Panaracer, including the 700c and 26″ tires. This is exciting news, as it represents a big upgrade to almost all of our Rodriguez models.
Smoother Ride, Less Flats!
We love the Panaracer Pasela PT tires for their excellent ride and fantastic puncture resistance. Actually, I've been riding them on my daily commuter for 3 years now and had only 1 flat. That flat wasn't a puncture either, it was a pinch flat from riding with under-inflated tires, a heavy load on the back rack, and hitting a Seattle sized pothole (so I don't think it counts).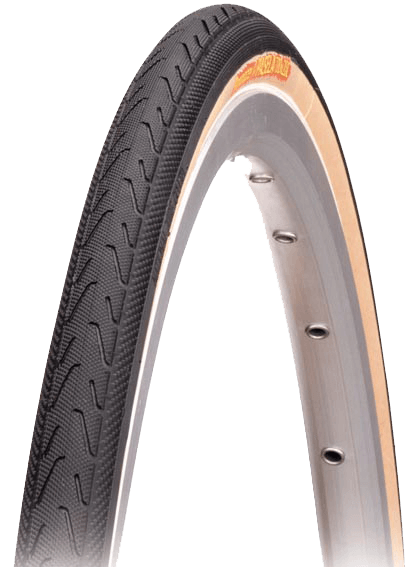 So many of the puncture resistant tires on the road provide a ride that is too stiff…especially for everyday commuting. Who wants to ride a rock hare tire? Not me. The Panaracer PT for me has been the perfect solution to not wanting flats, but still wanting a comfortable ride. I can personally attest to the great ride of these tires, as well as their superior flat protection.
Come and Get 'em!
Not only are we using these tires for our new bike builds, but they will be available for sale in our repair shop for all of our customers who need new tires (or maybe just want better tires than they have now). Call Mike (206)-527-0360 today and set up an appointment to have a set installed on your daily rider. You'll be glad you did.
We are stocking a large supply of these tires in both wire bead, and lighter weight folding bead. We are also stocking lots of widths. Below is a table showing what we are stocking.
Rim Size
Tire Widths
Wire Bead
Folding Bead
Black Sidewalls
Tan/Skin Sidewalls
700c
25, 28, 32c
Yes
Yes
Yes
Yes
650c
25c
Yes
Yes
Yes
No
650c
28c
Yes
Yes
Yes
Yes
26″
1.25″, 1.5″
Yes
Yes
Yes
No