Steel bikes don't have to be heavy, and here's proof!
As many of you know, we have one of Seattle's largest bike repair shops and we service every make and model of bicycle. As a high end bicycle manufacturer (Rodriguez and Erickson), we have become the 'shop of choice' for folks who ride high end bikes of every make. It's always fun to weigh the high end bikes that come through our repair shop. Even though I've written a lot about the fact that our Rodriguez Outlaw is the true featherweight, some people still think that a steel bike has to be heavy.
So….a picture is worth a thousand words right?
---
---
The other day, a Specialized S-Works Tarmac came through our busy repair shop, and we had the chance to put it up head to head against our Rodriguez
Outlaw
on the same scale. The results were not surprising to us, but to anyone who thinks a light bike has to be made from carbon fiber, the results are probably quite shocking. One of the mechanics snapped the shots below with his phone, and texted them to me.
I put together a quick Facebook post of the images and our website lit on fire! Apparently, there were some recent newsworthy events (like a New York Times article for one) causing cyclists to take a second look at U.S. made steel bikes. As it turned out, this post was well timed. As a result, there are a lot of folks out there investigating light weight steel frames to replace their existing carbon frame. You might be surprised to learn that we've been converting people to lighter weight steel for several years now.
Anyway, back to the photos. Below is a side-by-side shot showing exactly what the 2 bikes weighed on the same scale, on the same day.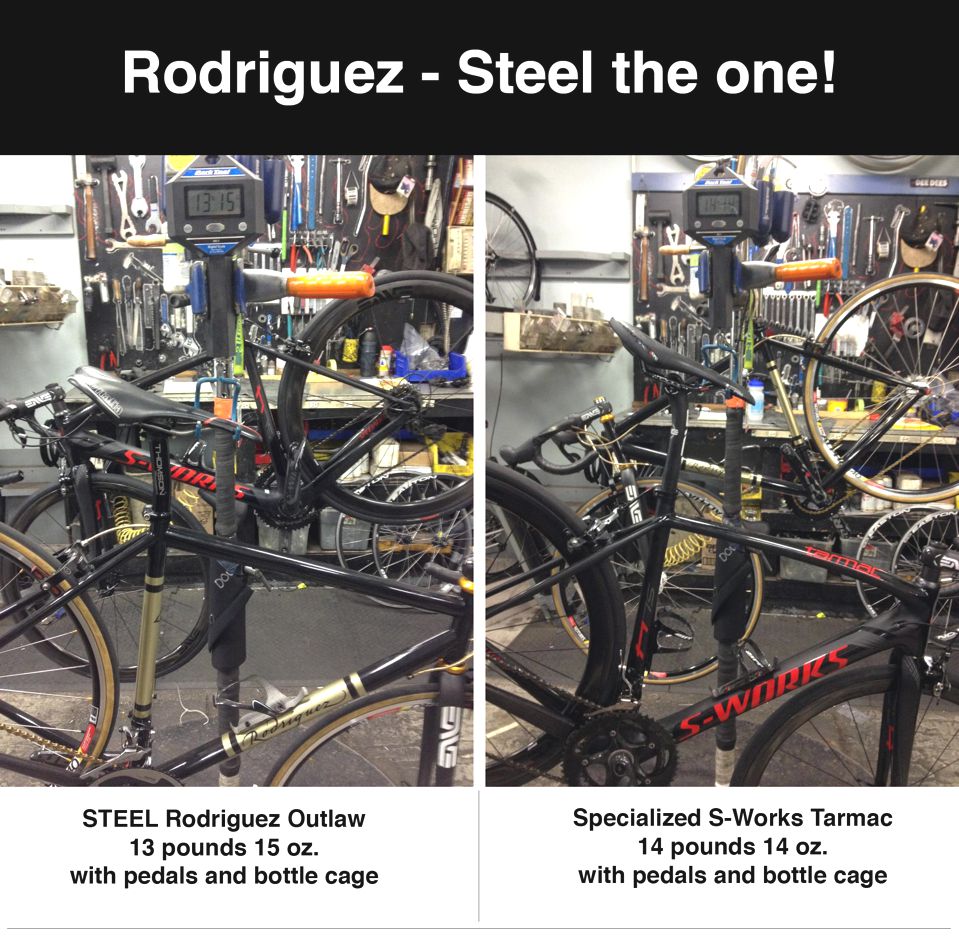 Now you can have the perfect blend of ride quality and durability of steel in a custom hand made bicycle, and not have to sacrifice on weight. You don't have to sacrifice on anything I suppose. The Rodriguez Outlaw is custom made in Seattle USA from True Temper S3 tubing. Every frame is built specifically for its owner, and can have any color you want. The Outlaw rides like a steel bike because it is a steel bike.
It's as light or lighter than any high end carbon bike made overseas, and will serve you for a lifetime of cycling as it's not going to wear out. You'll feel more confident on the downhills, and this frame climbs like a rocket! Just ask Steve if you don't believe me!
Thanks for reading, and please share this article if you know someone who might be interested.
Links inside this article: