If you're curious about the specs on the bike mentioned in this article, here you go!


Another Convert
Dan – October 2011
Today while I was writing the Outlaw web page, a customer (let's call him Steve) brought in his Cervelo R3 carbon bike for a new rear wheel and some various other work. Little did he know he was in for the ride of his life! You see, while we were gathering up the parts and building the wheel, Scott asked him if he still wanted to ride today? He said that he wanted to, but the bike wasn't cooperating. It was a slow day in the shop, so Scott offered to loan him a bike for the afternoon. The customer agreed.
The bike that we loaned him was a Rodriguez Outlaw made with S3 tubing. This is a bike that is comparable in price and weight, and happened to have the same SRAM Red parts group that Steve had on his Cervelo R3.
Well, Steve road about 50 feet down the street and then back up again. "OMG!" he said, "this thing is incredible". Scott made some final adjustments and told Steve to make sure and ride some hills that he was used to while he was out. "I'd like to know how it stacks up against the Cervelo R3″ said Scott. The truth be told, we already knew how it stacked up.
Fast forward about 45 minutes and Steve rolls back up on the Outlaw. He said "I'm getting one of these!". He decided that he would get the wheel now, and ride the Cervelo for a few more months. Then he took off down the road on the Cervelo.
Not so Fast?
Well, months turned into minutes as Steve is being fit for his Outlaw frame as I write this. Turns out 5 minutes on the Cervelo and he said to himself "I can't ride this thing anymore". He turned around, came right back to the shop, and ordered his Rodriguez Outlaw.
This is not the first time that we've had a customer make a conversion this fast, but since I was right in the middle of writing the Outlaw web page while this was going on, I thought an article was in order.
I've said over and over that a person really has to experience this bike. Even if you already own an expensive carbon bike, the Rodriguez S3 Outlaw is still a bike that you will find worth trying. I cant's stress it enough… It's THAT GOOD! It's as light or lighter than his Cervelo, it's faster than his Cervelo, and most importantly, it's much more fun to ride that his Cervelo. If you want to see why Steve, and so many others have abanDoned their expensive carbon bike after riding one these, I dare you to give it a try.
---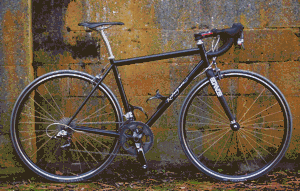 Update November, 2011 – Steve's Bike looses 1/4 pound!
Now the bike is finished and Steve is enjoying it. The total weight of the bike is 4 ounces lighter with the steel Rodriguez Outlaw frame than it was with the Cervelo R3! The Cervelo was a very respectable 15.5 pounds, but the same parts on a Rodriguez Outlaw frame/fork weighs in at just 15.25 pounds. That's even including a heavier saddle! Not only is Steve going to be more comfortable, he's riding a lighter bike now. Not to mention how sweet his Outlaw looks! Seeing is believing….. click here.
To view the complete ultra-light steel bike race gallery here.
A lot of people ask me "how'd you do that?" when they lift one of our steel bikes. It's hard from them to believe that a steel bicycle frame can be as light, or lighter than a carbon fiber frame. The fact is that we've been doing this for almost 40 years. Dennis Bushnell has tremendous experience in the field of building lightweight steel frames. Although the steel has evolved over the last several decades, our methods have too. Our frames are differenct because of that experience. If you think you might be like Steve, and want to try one of our ulrta-light steel bikes, give us a call at 206-527-4822 or shoot me an email today.
---