Tandem riding is my favorite kind of bicycle riding. Tandem riding can be leisurely, or competitive, or BOTH at the same time. That's the beauty of it. You can ride with your partner even if you have different skill levels, fitness, or enthusiasm. Since I've been married 32 years now, it's important to find ways to enjoy activities together. Tandem riding evens out all of the differences between us. The other couples that you meet when riding tandems are a blast too.
Seattle is a hot spot for tandems, and has been since the early 1970's when Angel Rodriguez and Glenn Erickson opened R+E Cycles.

The exciting news for Seattle is that the Northwest Tandem Rally will be held in here in July of 2017! That's in less than 10 months! R+E Cycles is honored to be the title sponsor of the event. How we could we say no when the rally will be based just down the street from our shop? We're very excited for the season to begin, and very excited for the rally!
I thought now would be a great time to list some of the historical events, innovations, and situations surrounding Rodriguez and Erickson tandems over the last years. I've tried to keep it brief and focussed on tandem specific stuff, but years is a long time. I hope you enjoy it.
My introduction to Tandems:
When I interviewed for a job here at R+E Cycles back in 1987, I met Angel Rodriguez. He was sweeping the floor, and I had no idea who he was as I was fresh out of Jerome Idaho. There was no internet of course, so personalities in the bicycle world were more regional at that time. Anyway, after my interview with Estelle, she introduced me to Angel Rodriguez (I had noticed the name Rodriguez all over the bicycles on the shop floor). After the pleasantries were over, Angel's first question for me was "do you have experience with tandems?" Well, the only tandem I'd seen in person at the time was an Andre Bertin at a shop that I had very briefly worked at in Federal Way (Tandems are not something that most shops deal in). "Not much, but a little" was my answer. Little did I know that within a a few days, I'd be selling, working on, assembling and riding tandems every day.
My first year here, Estelle loaned me a tandem that my wife and I rode that summer. We were hooked! We've now been tandem riders coming up on 30 years. That love for tandem bicycles has driven our shop since its beginning, and 2017 looks to be another chance to share this irresistible style of biking with more Northwesterners than ever. You see, tandem riding can be competitive, leisurely, family fun, or anywhere in between. The folks you'll meet at a tandem rally are a blast to hang out with. We've ridden tandem rallies where we led the pack at speeds not maintainable on a 'half-bike'. We've also ridden tandem rallies where we pulled the kids in a trailer and rode way in the back of the pack. Every rally we met new people and formed life long friendships with them. I can't say enough about the social event that is the Northwest Tandem Rally. If you own a tandem, and haven't done a rally….do this one! If you don't own a tandem, and haven't done a rally….get one! I guarantee a good time.
Innovations and Creations:
Since tandems are on the brain, I thought I would take a few minutes here and share with you some of the rich tandem history of R+E Cycles over the last 44 years. Of course, my goal is to entice some of you half-bike riders (this is what we tandemmers call singe bikes) into possibly trying a tandem, but also just let the tandem world know some of the history between tandems and our company.
Quick Rodriguez Tandem Bicycle Historical tour:
In 1973 – Angel and Glenn started this company and started building tandems as well as single bikes.
---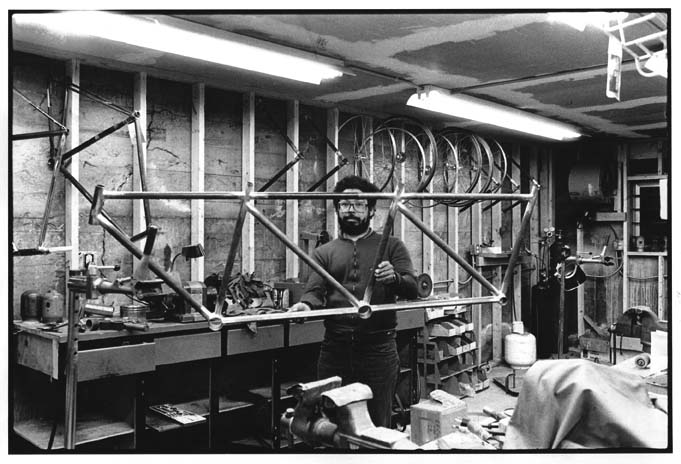 Angel Rodriguez shows off a Triple (tandem) being constructed in the Rodriguez frame shop.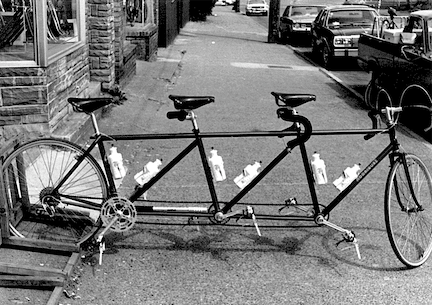 The triple finished and assembled waiting for its new owners. I love the 1970's cars on the street.
---
In 1976 – Angel and Glenn attract the attention of a national bicycle magazine. Not specifically related to tandems, but that was coming.
In 1980 – A major bicycle magazine did a glowing review of the 'Most advanced tandem they had ever seen'…the Rodriguez tandem. A 1979 tandem just like the one in that review can be seen hanging in our Rodriguez Museum (basically some old bikes hanging in the shop).
---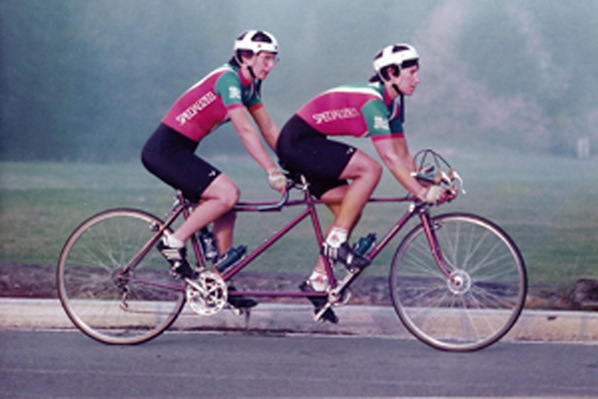 In 1984 – Estelle Gray and Cheryl Marek ride a Rodriguez tandem to set the Women's World Record riding across the United states in just 10 days, 22 hours and 48 minutes. That was just a few hours shy of beating the men's record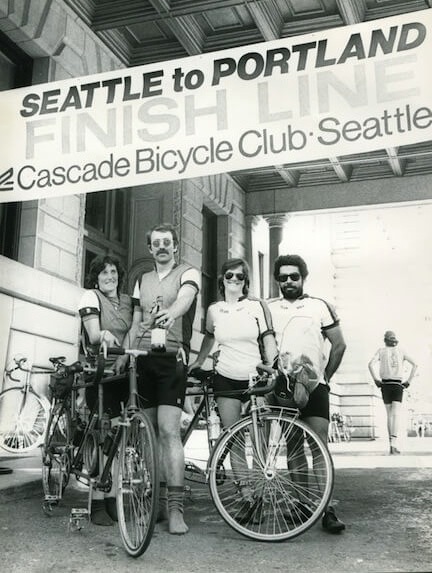 By the mid-1980's – Rodriguez and Erickson tandems were a plentiful site at big rides like the STP
In the late 1980's – Angel Rodriguez was called upon to help design Yakima's first rooftop tandem carrier. The design carried the Rodriguez name for many years after that.
In 1989 – Angel teamed up with American Mfg. to build a line of aluminum tandems. Bicycling Magazine reviewed one in 1990, and gave it a strong thumbs up! These tandems are still out there on the road and have somewhat of a cult following.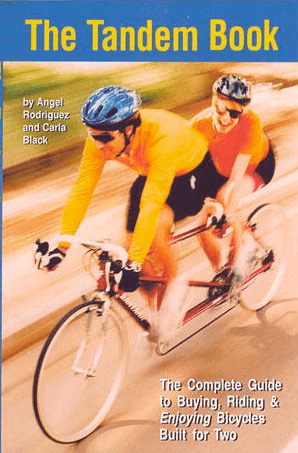 Along with these new aluminum tandems, came plans to take the Rodriguez name nationwide by opening tandem dealers all over the country. He contracted with tandem builder Dennis Bushnell to build a line of production steel tandems. Soon there were Rodriguez tandem dealers in many states across the country. Sales of both Rodriguez aluminum and steel tandems were growing by leaps and bounds. By this time, Glenn Erickson was no longer partners with Angel, but Glenn had a strong custom tandem business that would grow strongly through the 1990's as well.
It was around this time that Angel released The Tandem Book and this even further established the brand's commitment to tandem cycling. Angel sold R+E Cycles in 1990, but continued on with his tandem business through a new company called Evergreen.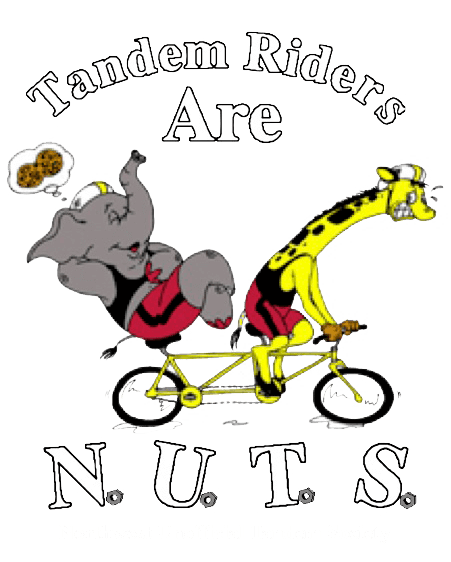 One of the many N.U.T.S. t-shirt designs from the 1990's

By 1993 – The party was over. The new R+E Cycles owner went broke, but hat's a whole other story. There was troubling news on the tandem front as well. As it turns out, tandems are hard to sell through shops that don't have a strong commitment to them. Estelle (yes the record holder), my wife and I purchased the shop and the Rodriguez name in 1993 and started to piece things back together.
Back to basics. No more dealers. Rodriguez tandems would be sold exclusively through R+E Cycles again.
In 1994 – Debra, the President of the Northwest Unofficial Tandem Society (N.U.T.S.) called and asked us for a favor. She was moving, and had to give up her duties of running the club. She had tried to find someone else to do it, but no luck. So, we agreed, thinking that someone would pick it up after a short while. Well, a short while turned into several years. We lead monthly rides through the summer, and published and sent out a newsletter more or less quarterly (all snail mail back then). We ran N.U.T.S. until the year 2001 when Sheila (Thanks, Sheila!) formed the current Northwest Tandem Club, Evergreen. Don't get me wrong, we love tandems, but running a club was something different. We were thrilled to merge N.U.T.S. into the Evergreen Tandem Club. They've done a fantastic job with it, and they are the folks who will bring you the 2017 Northwest Tandem Rally.
---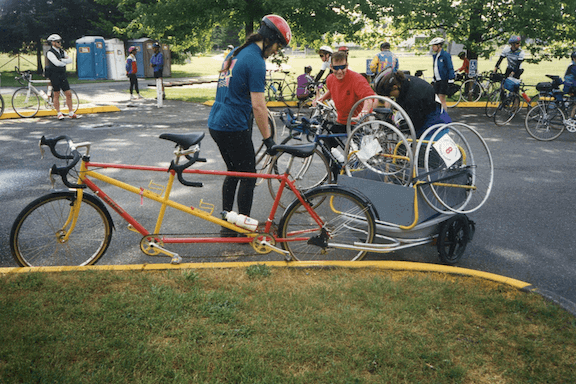 Throughout the 1990's – R+E provided road support to many cycling events, including STP and some tandem events. The way we did it was unique. I rode a tandem with a trailer full of tools and parts (and sometimes my Doberman) along the route and fixed bicycles on the side of the road.
It was a way I could go on the rides and still be 'working', but it also gave us some visibility as the place to go for tandems. Finding stokers wasn't easy. The trailer weighed 185 pounds loaded. Once someone had stoked for me with this contraption, they usually didn't do it again.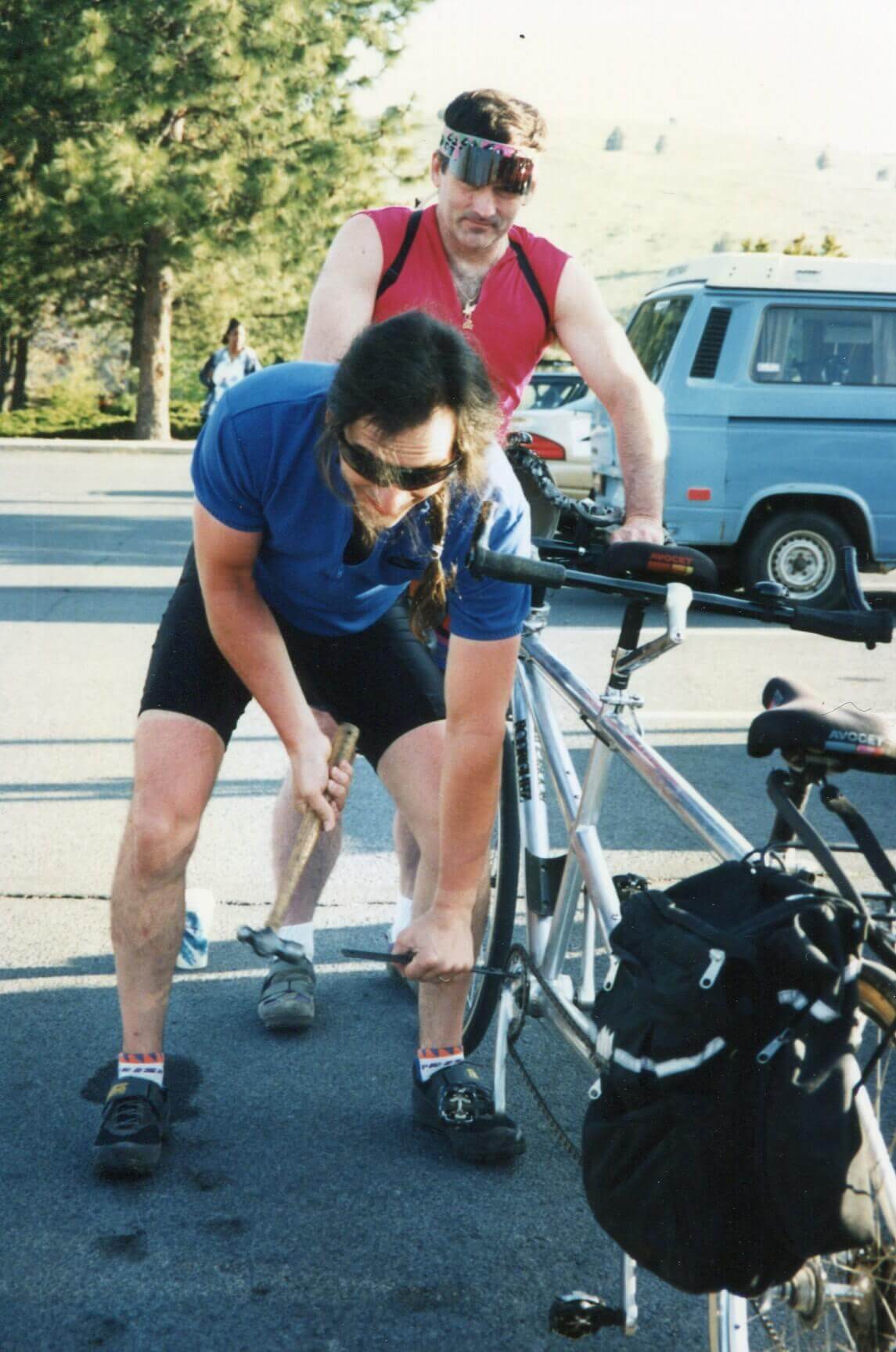 On the road repairs can be…er…um…low tech once in a while. Here I am at the tandem rally 'adjusting' someone's chain. Hey! If you look close you'll see that's one of those Rodriguez aluminum tandems from 1989.
---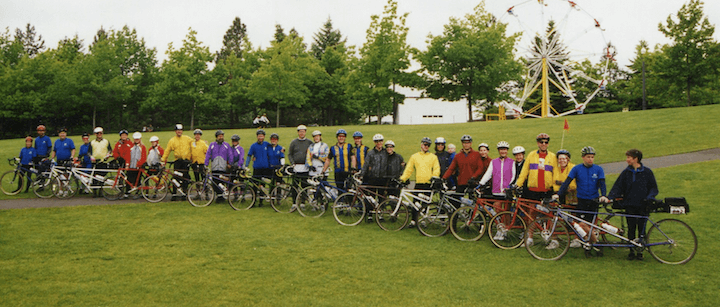 1995 –
The Rodriguez Tandem Owner's photo at the 1995 Northwest Tandem Rally. By this time, we were definitely back in the tandem business. Again, I can't say enough about how much fun the tandem rally is.
---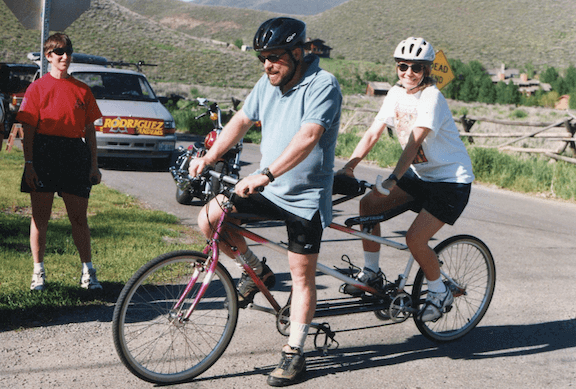 1996 – A Huge Year for Rodriguez Tandems
We took the show on the road! In an effort to expand interest in tandem cycling further around the northwest, we setup a Tandem Expo of sorts in Sun Valley Idaho. We rented a van, loaded 8 or so tandems on top of it, and drove the 11 hours to Sun Valley for a weekend of Tandems that we arranged. We advertised the event in Boise and through all of the local Idaho shops that we could get to hand out flyers to their customers. The event was a great success. We did sell some tandems, but more importantly, one of the Boise cycling clubs started emphasizing tandem cycling quite a bit more. In just a few years, that club would actually host the Northwest Tandem Rally in Boise.
It was a great rally indeed! Since it was a long drive, I offered to use my trailer to haul 20 of our customers tandems for them so they could fly. It was quite a trip. My van broke down in LaGrande Oregon on the way there, and the way back.
With all of this tandem stuff going on, we had managed to make enough noise in the tandem world to catch the eye of Eugene based Tandem Magazine. They came by and did a full spread on the shop for their magazine.
It was also in 1996 that we designed and built the first Tandem that could be converted to a single bike. It used 8 S&S couplings to achieve this feat, and we named it the Rodriguez 8-Ball. Author and Adventure Cyclist, Wilie Weir, chose a Rodriguez 8-ball for his highly publicized trip through Cuba. This publicity was great for our tandem reputation. It would be over 20 years before any other company even attempted such a creation, and by that time, we'd built dozens of them.


The Rodriguez 8-Ball is the only tandem that can be both your single bike and your tandem.
---
In 1997
– In an effort to offer a Rodriguez tandem at a lower price, we started producing the Rodriguez Toucan. Like Angel had done before, we contracted with Dennis Bushnell to build the overflow of these frames for us, as our custom shop at the time was not able to produce them fast enough. We sold them like hotcakes! It was hard to keep up with the demand. A Rodriguez tandem for just $1,997 was a great price.
The success of the Toucan put us on a National footing and soon the Tandem press noticed us. It wasn't long until one of the owners of (the now defunct) Tandem Magazine called and ordered a custom Rodriguez tandem for he and his wife. This was pretty cool for a couple of reasons. You see, Tandem Magazine was based in Eugene Oregon, and so were Co-motion, Burley and Bike Friday….3 of our biggest competitors at the time. I thought it said something that a Eugene based Tandem Magazine owner wanted to order one of our bikes. Well, they ordered it, and then reviewed it in the magazine. I was a little nervous, but the review was very good, and the bike looked spectacular!
In 1998 – Tandem Magazine also reviewed the Rodriguez Toucan. That would be the last 'tandem specific' press we would get for a while. Tandem Magazine went out of business a few years after that, and it took a while for another magazine to pick up the reins.
In December of 2004 – We bought out Dennis Bushnell, moved all of his equipment into our shop, and hired Dennis full time to run the frame shop. By combining forces, we were able to develop an entirely new way of manufacturing custom bicycles and tandems. A method and philosophy that would make a Rodriguez bicycle or tandem the best value in the industry. Myself, as well as our frame building team also learned from Dennis and his wealth of knowledge.
Along with Dennis Bushnell came the famous Bushnell Eccentric bottom bracket. This is a tandem specific design that Dennis had developed. We went to work to patent the design right away. We had also been working on new tandem specific cantilever brake design. Having Dennis full time at the shop meant that we could speed up the prototyping process and begin patent work on that as well. It was a win for all concerned, and both products rocketed to stardom.
In 2008 – We introduced the Rodriguez Ultra-light tandem. At just 26 pounds, it was an industry sensation. Dennis' long history of flyweight tandem building, and our new manufacturing process made something like this possible. The rest of the industry scrambled to keep up, and they're still trying.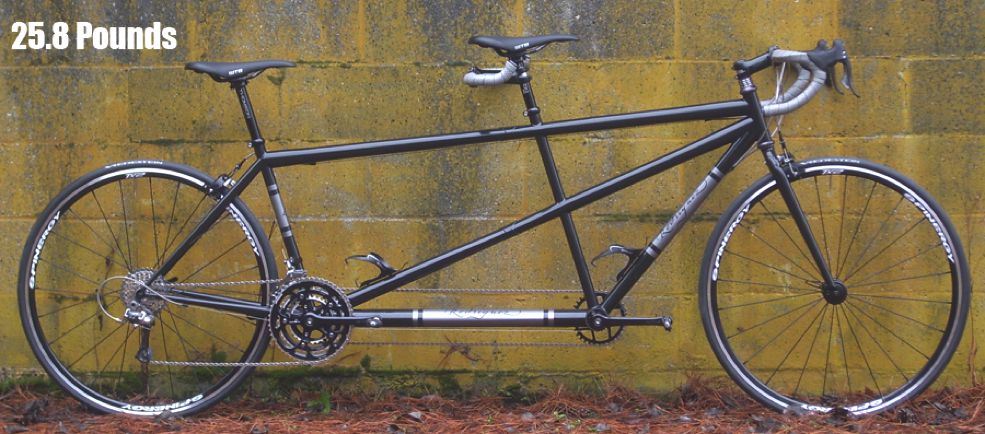 ---
2008 – FREE Custom Tandem Sizing
This was also the year that we made the announcement that all Rodriguez Tandems would include
custom sizing free of charge
. This just makes sense as trying to properly fit 2 people to one bike is impossible unless it's built custom for them. Even if you don't think you need a custom size tandem, you should read
this article
. Other manufacturers are still charging several hundred $$ to build in custom sizes, but our manufacturing method makes it possible for us to
do it for free
. As Angel always said "FREE is a very good price!".
In 2009 – An early version of our tandem brake, the Big Squeeze, was reviewed in a British cycling magazine. Sales of the product took off.
2009 was also the year that we built our first Bicycle Built for Five that also converted to 4, 3 or 2. Having a builder like Dennis really stepped things up on the x-tra long bike division.
We built several triples, and quads (bicycles built for four) in 2009 It was the year of the long bike. Our 2009 staff photo featured a couple of them that just happened to be in the shop at one time.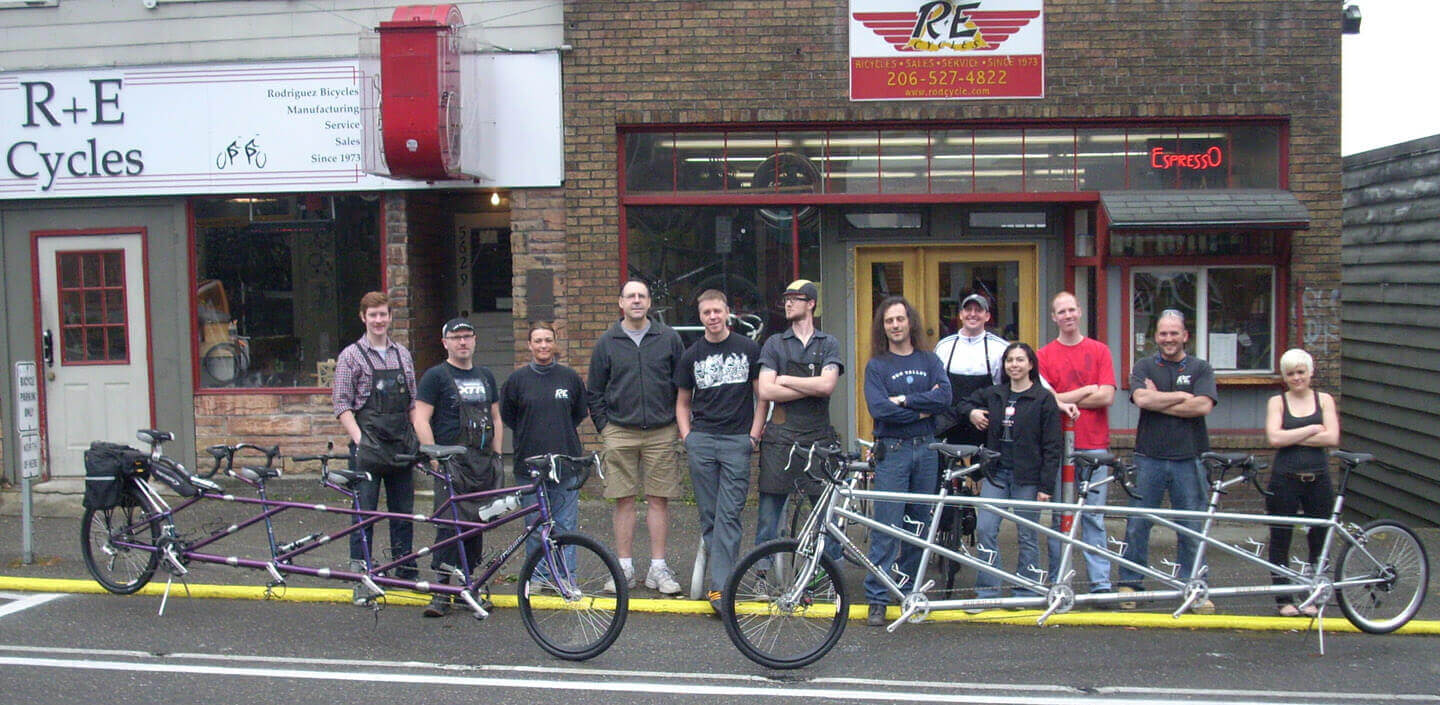 In 2011 – Our patent was finally awarded for the Bushnell eccentric. This was an enormous undertaking, but sales of the Bushnell eccentric are now worldwide. When we applied our new manufacturing techniques to making this product right here in Seattle, we suddenly became the largest producer of high end bottom bracket eccentrics in the world. As far as I know, our Bushnell eccentric is the only product manufactured in the U.S.A. and shipped to companies in Taiwan (instead of the other way around).
In 2012 – Another Rodriguez tandem specific patent would be issued. Our Big Squeeze brakes patent issued in March 2012. It might not sound like much, but holding 2 patents specifically related to tandem products is quite rare for a small company like ours.
By 2013 – It was hard to ignore the recent accomplishments we'd made in the tandem arena. By this time, there was another magazine that paid a substantial amount of attention to tandems again, Recumbent & Tandem Rider Magazine. Now we were approached by this Magazine for a review. The result was seven pages of the issue, including the cover of the magazine. They were very impressed with our 'Only Custom' sizing. Again, sales took off to new heights!
2014 – This was such a great tandem year for us here at R+E Cycles that it got a new Rodriguez tandem model named after it. The Rodriguez Model 20/14 is a creation to behold. Unique in the industry as a full tandem that rides like a full tandem, but will fit in small standard sized suitcases….small enough suit cases to be 'carry on' luggage in the European train system. This was the requirement that the bike was designed for.
The design was a great success, and we've built several of them now. As a matter of fact, we're building one as I'm typing this article.
That brings us to 2016 – Here we are in 2016 and having one of the best tandem seasons since 1996. Tandems of every style are on order right now and we're working on a bicycle built for 4 as well. Our new manufacturing method has proven itself to be the most flexible model in our industry. We even attracted the attention of a major business newspaper, the Puget Sound Business Journal to highlight our shop. We'd love to invite you in to visit our shop and meet the folks here at R+E Cycles (Rodriguez and Erickson).
After years of building tandems, we've done it all. We've built for world record holders, national champions, and most of all, families and couples of all skill levels and abilities. We've built tandem trikes for folks who couldn't balance anymore, and we've built tandems for people almost 7 feet tall. You can have a gander at our tandem photo gallery to see some of the creations we built just over the last few years.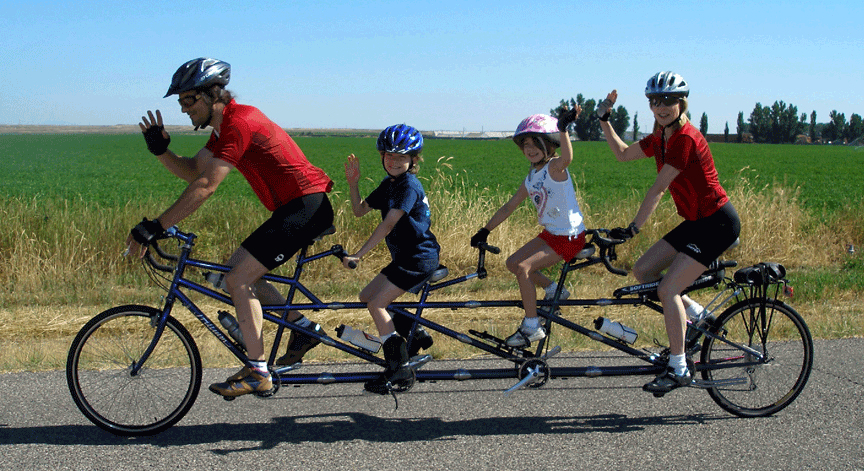 My Family in 2006 on our Rodriguez Bicycle Built for Four riding through the country in Idaho. We're on our way to the 4th of July Parade!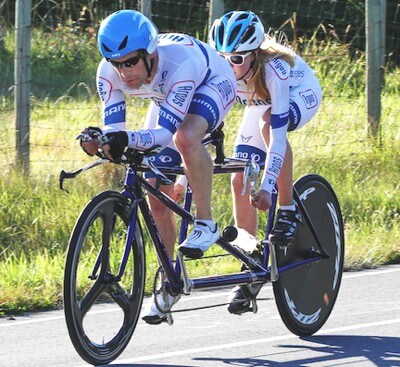 Former national racing team member on his Rodriguez tandem (that also converts to a triple)
---

2017 should prove to be our best tandem year yet! We're thrilled to be the title sponsor of the 2017 Northwest Tandem Rally, and looking forward to participating in it.
I say again, if you have a tandem and haven't ridden in a tandem rally, do this one. If you don't have a tandem, get one. We've got an excellent selection of used and new tandems right here in the shop for you to try.
Thanks for reading. I've got to get back to work now. –Dan – 09/2016
Please visit us soon!