Reynolds 725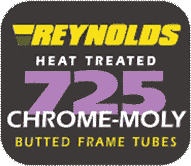 This heat treated cro-moly tubing is precision butted and offered in a wide range of tube sizes for all styles of frames. This material is ideal for TIG welding and brazing, with joining by lug or lugless construction. 725 is a material that allows thin gauge, tight tolerance tube, providing maximum weight saving for competitive use.
This tubing rides like a classic, comfortable, light-weight steel frame. It is a bit heavier and less expensive than our True Temper OX Platinum material, but is just as durable and fun to work with. Although this is our lowest cost option, it is still a very high quality product. I realize that lot of mass-produced bikes have "cro-moly" stickers on them. These bikes are usually quite heavy and kind of give steel a bad reputations as being 'heavy'. Now, if you've read my frame materials article, you know this to be the case for the other materials as well.
Most mass produced cro-moly frames will weigh around 5 to 5.5 pounds. This is because they use lower grade cro-moly for the 3 main tubes only (seat, top and down tube), and then often use a much heavier high-tensile steel for the rest of the bike.
We do things differently. All Rodriguez frames are hand-built with high-quality tubing that is much lighter than a standard mass-produced cro-moly frame. When we build a Rodrigez frame from Reynolds 725, the whole frame is high grade, heat treated cro-moly. Final weights vary depending on frame size and type, but a recently built medium sized (6S) Rodriguez Navigator sport frame weighed just under 4 pounds (3 pounds 12 ounces). This is a very respectable verified weight for the price.
R+E Cycles Home