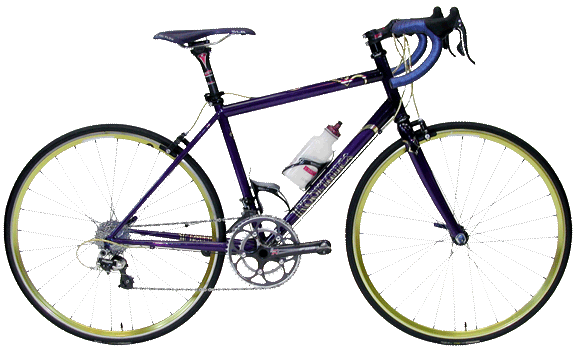 Bicycles Specifically for Women
Dan
February, 2004
A few years ago, Time magazine ran a cover article titled 'Men and Women are born different'. "No kidding," I thought, "why can't the bicycle industry figure that out?" Women have always been expected to adapt to bikes that are designed for men. This means that the handle bars are too wide (men usually have broader shoulders), the reach to the bars is too long (men have their height in their torsos, while most women have their height in their legs), and the bars are too low (men generally have longer arms). The way that the men's bikes were manufactured made these bikes difficult, if not impossible, to adjust to fit women comfortably.
We tried talking with all of our bicycle vendors to try and address the issue, to no avail. So, in 1996, we took on the monumental task of designing and manufacturing a line of bicycles specifically for women.... As a custom bike builder, we have a database of tens of thousands of people that we have fit for bicycles over the decades and about 1/2 of them are women. Our customers range from semi-professional athletes to folks just getting into cycling after retiring from a 30 year career at a desk. In 1996, we pioneered a new frame design made specifically for women. We used only the women's measurements and the design we came up with was radically different than any bike that was available at the time. The resulting effort was the Rodriguez Stellar line of bicycles. The Stellar bicycle for women became a standard in the industry.
---
The original Stellar design was made in 3, then 4 sizes. The focus was really on shorter women at the time. Since then, women from all over the US (and sometimes the world) have sought us out. We've now moved beyond the 4 sizes. In 2006, we've expanded our Rodriguez bike line to 18 sizes. These sizes were developed during the creation of our The NEXT-fit™ system.
NEXT fit is the most advanced method of fitting bicycles to date. Within these 18 sizes, we can determine a frame size to be a 'perfect fit' for just about 90% of our customers. Handle bars, seats, and other components are decided based on fit or personal preference for each individual. If we can't fit you on one of our 18 sizes, we offer custom frames too.